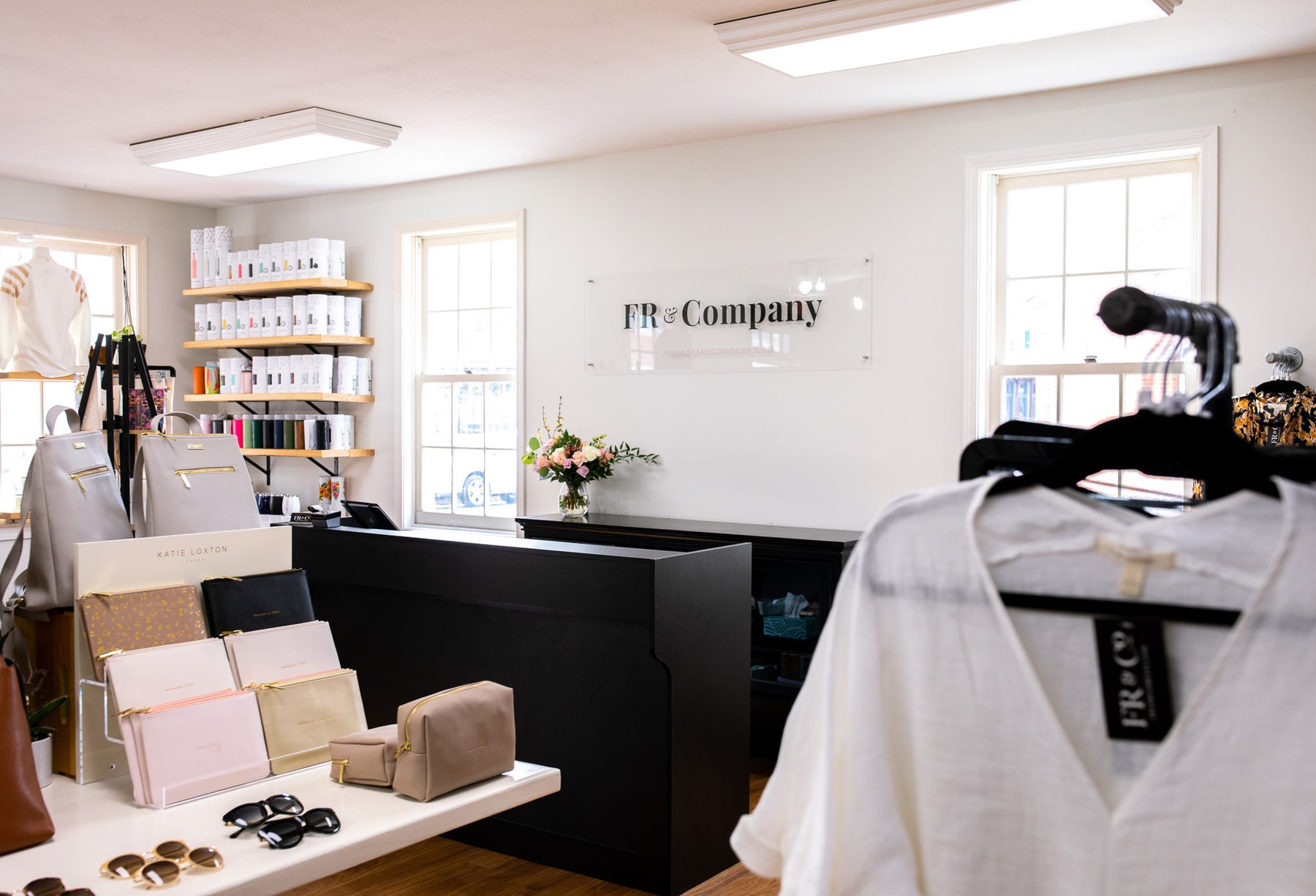 Retail Therapy - A Welcome Escape on Main
In the latest issue of Discover St. Charles Magazine, FR & Co was featured in the article "A Welcome Escape on Main" alongside an interview with store owner Ashley Jaswal. The article dives into the meaning behind what FR & Co stands for and the purpose of a boutique focused on real women that's inspired by real women. 
Read the full article below: 
Nestled in the heart of Historic Main Street St. Charles, you'll find a shop featuring modern-classic clothing and products for every woman (seriously, every woman). FR & Co focuses on curating products that can follow a woman through her whole life- as owner Ashley Jaswal put it, "whether you are 22 or 82." 
FR and Co, the Storefront on Main Street was born out of Frank Regards, a brand that Jaswal designs and manufactures, and which began solely online. As business grew, Ashley and the FR & Co team felt the need to expand their storefront offerings beyond the Frank Regards line. FR and Co, Ashley explained, focused on providing products in three core areas; women, home, and gift. At the storefront they felt that the Frank Regards line that Ashley created really nailed home and gift, but "we were missing the women aspect, and that didn't sit well." 
Ashley's dedication to quality in all aspects of her company sets FR & Co apart- if something doesn't sit well with her, she will work to make sure she is 100% satisfied with her business. When she decided they were falling short in the boutique department, it was no different. They sourced styled apparel and accessories from other small businesses, hung a new sign, and became a storefront. Ashley has since dropped the wholesale element of her brand and now runs her storefront on Main Street St. Charles full-time, selling Frank Regards products as well as a variety of boutique clothing & gift products. 
Ashley started FR & Co in the corner of her tiny apartment. At the time she made greeting cards-- it was a creative outlet for her. Ashley's work days were spent in the world of corporate marketing, and she needed something that was uniquely hers in creation and execution. Then, as her business grew, Ashley did too. She got engaged, bought a house, got married, and found that while she still related to the "more mimosas" shirts that were (and still are) a Frank Regards staple, her life was looking a little different, so her company should too. In order for her company's mission and products to remain raw and honest, Ashley had to define her path. "I want to be able to relate to the product that we offer." That's how the idea of creating products that follow women throughout their lives formed. 
"It's just been following me through the moments of my life, and then that's what made me recognize we wanted to really fill that purpose of following a woman's journey throughout" said Ashley. To truly fulfill that purpose meant to look ahead to later stages of life as well. So Ashley draws not just from her own life, but from other women around her. 
Female focused. That is truly, the definition of FR & Co and Ashley is unabashed about leaving men out of the vision. "Guys are great, that's wonderful, but we want to stick to where we're tried and true, and where we feel the most purpose, and where our core is." Ashley is dedicated to thoughtfully creating and curating products inspired by real women -that appeal to real women.
When you walk into the Storefront you'll feel welcomed, and wanted. From mugs for girls moving into their first dorm room and home products for a first apartment, to bridal party tees, "aunty" shirts and their popular "mama" sweatshirts, there really is something for every[woman]. The store is wheelchair and stroller accessible, with inclusive sizing. To learn more about FR & Co, the Storefront and to shop their fun clothing and accessories, go to www.frandcompany.com
- Discover St. Charles Magazine
- Photos by Mary Van Winkle