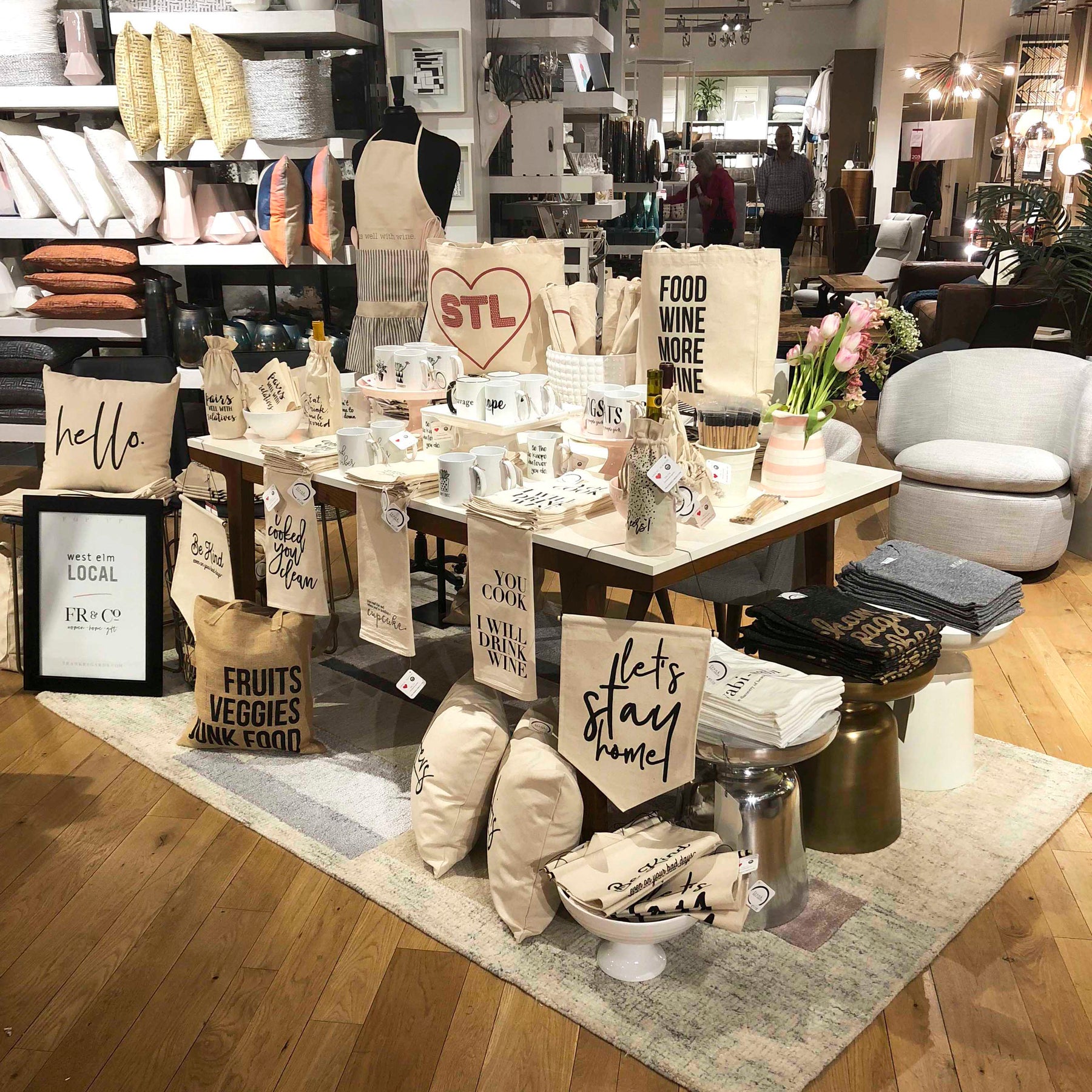 FR & Co Home Collection Hits the Shelves
Attention all Frank fanatics! FR & Co has just launched a fantastic new collection of home decor items that we can't wait to share with our customers. With our big unveil at our West Elm "Featured Maker Pop-Up" last weekend, we rolled out a brand new variety of goodness that you will definitely want to shop! 
Banners- We are now offering two new banners for your home decor that redefine the walls. Proudly display your #1 house rule with this beauty: Be Kind, Even On Your Bad Days. It's our version of the Golden Rule 2.0 and we think the styling gives it a modern update. Our second new banner says Let's Stay Home in in a beautiful, bold script. Tired after a long week? Peeved from rush hour traffic? Just can't shake a foul mood? Gaze at your walls with these new items, and immediately improve your day! 
Aprons- One of our most favorite designs ever comes on this new FR & Co apron! Fun, flirty, and franking awesome, let your friends and family know your preferred ingredient in this Cooks Well With Wine design with calm blue detailing. Whether you're casseroling or frozen pizza opening, you'll be the Kitchen Queen in this new number.
Pillows- Are you ready to say, "Hello" with these inviting and conversational new pillows? Stake claim on your favorite seat in the house with a His or Hers option, or prep the room for a Netflix night with the Get Cozy piece. These four new pillows are just begging you to come take a load off, and we're game for that. All of them stand alone beautifully or pair well as a set, whichever you choose!
Jute Tote- This bag is our favorite new bag, hands down. A jute shoulder tote with Fruits, Veggies, and Junk Food printed on one side; it has us planning our next trip to the Farmer's Market. It's the perfect size for that quick grocery trip, and completely reusable- everything green and good. You'll be filling this bad boy up ASAP, but don't worry, we won't be inspecting the calorie count!
We may be biased, but this new Home Line has us swooning. From design to execution, we can't wait for you to use these in your abode. In the house or on the go, let FR & Co deck you out from head to home. As always...
Keep it Frank.